Ukrainian business expects from the government tax holidays
April 2022
The 1st wave of the survey of Ukrainian business during the war. The study was commissioned by KSE
Russia's invasion of Ukraine has significantly influenced Ukrainian business — 86% of companies slowed down, reduced and even stopped. 37% of entrepreneurs say they expect tax holidays — this answer was on the top among answers to the question 'What help from the government do you need today?'. Assistance with logistics came second (17%). These are the results of a poll where sociological company Gradus Research surveyed 355 owners and c-level managers of small, medium and large businesses in Ukraine. The research was made at the request of Kyiv School of Economics (KSE).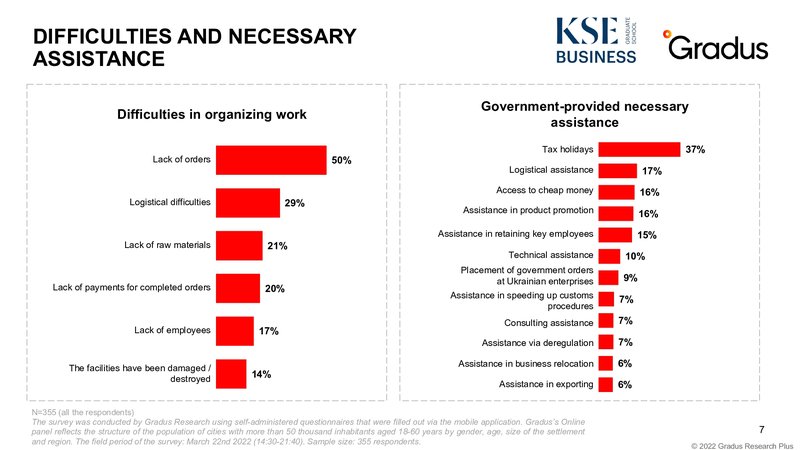 Entrepreneurs work hard to save their business and thrive through the war. For this Ukrainian business makes industry transformation. One in five (21%) has started this process, 16% already have a result and the same number plan to transform in future.
"We need a strong economy and business in the back land to help win on the front line. Business must work. If an owner or entrepreneur doesn't fight with weapons, his front is the performance of his business. He should focus on meeting the needs of the wartime economy, creating and maintaining jobs, paying salaries and taxes, and fulfilling customers' orders. At KSE, we help Ukrainian businessmen and businesswomen to transform and adapt their companies to the wartime economy, continue to work, be successful and demanded", Tymofiy Mylovanov, President of the Kyiv School of Economics, said.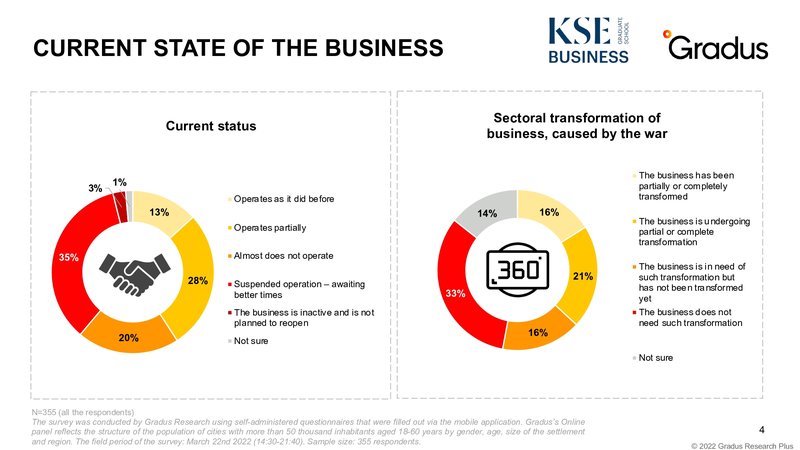 «Ukrainians can and want to work, even in war times. They are used to stress, even in peacetime at least three quarters of respondents said they feel stressed. We are a very antifragile nation. And now, in this 'force majeure', businessmen are trying to continue fulfilling their obligations to customers, although half are experiencing a decline in customer requests. Entrepreneurs deliver during air alarms, when fleeing to safe zones, while setting up in a new place — they do not interrupt business processes. It's just another demonstration of Ukrainian resilience,» Yevhenia Blyzniuk, founder and director of Gradus Research, said.
Hard times affect salaries and procurement: only 3-5% of businesses have increased these payments, considering them as social assistance, and 14-19% remain payments at the pre-war level. The rest either reduced or stopped payments — 39% do not pay salaries, 29% stopped paying suppliers.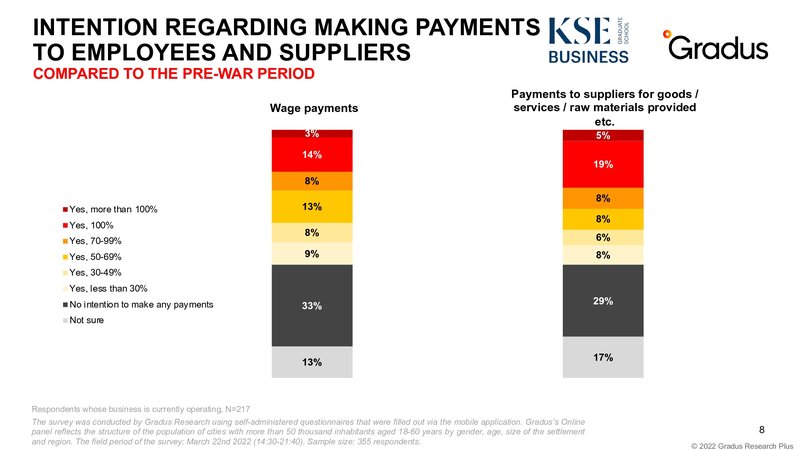 More data from this study is available upon request in the form on this page.
The survey was conducted by the research company Gradus Research. Method — questionnaire self-completion in the mobile application. The Gradus online panel represents the population structure of cities with more than 50,000 inhabitants aged 18-60 by gender, age, size of the settlement and region. Period of the field: March 22, 2022 (14:30-21:40). The sample size is 355 respondents.
Other reports