Social trends 2023: how the war turned Ukrainians into a more conscious nation
February 2023
8 key social trends that will be relevant in 2023
2022 has radically changed what Ukrainians believe and value most, where they live and how they spend their money, how they make choices and support each other. Gradus Research has been actively monitoring these changes throughout the year, and described them in 8 key social trends that will be relevant in 2023.
The war in Ukraine has caused a major migration shift
More than one-third of Ukrainians (mostly women and children) were forced to leave their places of permanent residence because of the war. Of these, 82% migrated within the region or Ukraine, while 18% moved abroad. The overwhelming majority of migrants are residents of the Eastern regions, but other regions also demonstrate quite high migration activity.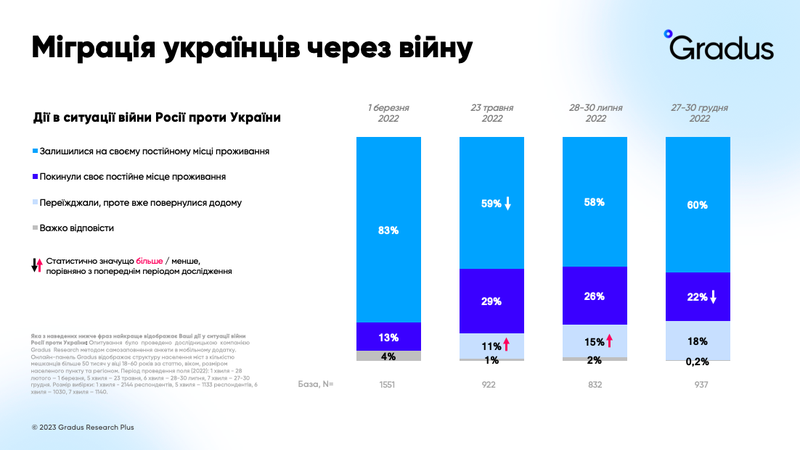 At the same time, Ukrainians demonstrate a consistently high desire to return home.
Citizens who have been forced by the war to leave their homes and move to safer places in Ukraine or abroad demonstrate a consistently high desire to return at the earliest opportunity - more than 70% of respondents throughout the survey period. And as soon as the security situation improves, this return will take place.
The level of people's trust in each other and in the state is growing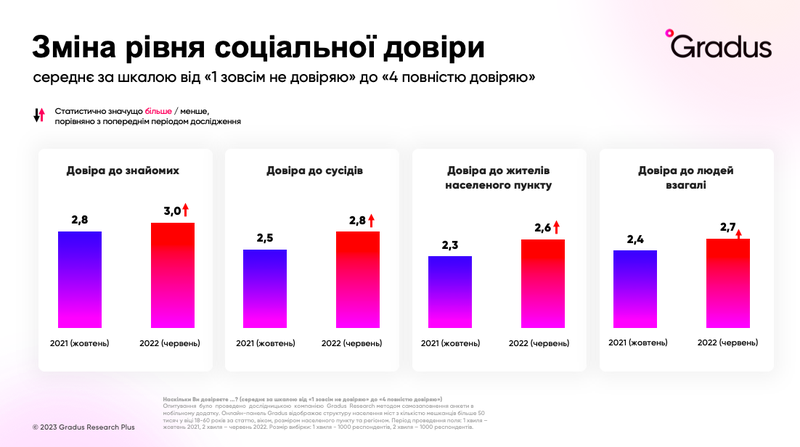 During the war, Ukrainians began to trust each other more. A Gradus Research study conducted in June 2022 showed that 63% of respondents trust people in general, compared to 45% in October 2021. Twice as many respondents began to trust the residents of their locality (the number of such people increased from 35% to 62%). Two-thirds of citizens (67%) trust their neighbors and people living nearby. As many as 80% of respondents said they trusted their friends.
Crystallization of identity
The war has become a catalyst for many processes, including the consolidation of Ukrainian society. Since the beginning of the full-scale aggression, there has been a wave of switching to the Ukrainian language. This is how Ukrainians emphasize their difference from the aggressor country and mark their belonging to the "Ours" group. By February 2022, about 40% of the adult urban population of Ukraine spoke Ukrainian in everyday life. Now this figure is approaching 60%.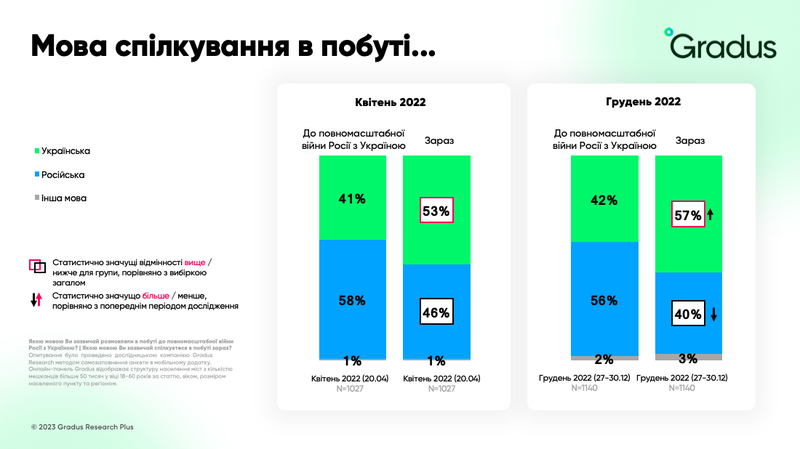 Ukrainians consciously choose local brands. Support for Ukrainian producers has been an important factor in the choice of most citizens since the beginning of Russia's full-scale war against Ukraine. Currently, 69% of respondents say they consciously choose products from Ukrainian brands. And 56% of those who started buying new brands during the war do so to support Ukrainian producers.
Greater emotional stability
Ukrainians are holding on despite more than 300 days of extreme life in the war. This is evidenced by the results of a Gradus Research study on mental health and the attitude of Ukrainians towards psychological assistance during the war, which we conducted at the end of September 2022. At that time, 41% of respondents rated their mental health in the range of 8 to 10 points, on a scale of 1 to 10, where 1 means "there are many problems with my mental health" and 10 means "there are no problems with my mental health at all."
At the same time, the overall level of subjective stress remains very high - 84% of respondents state this now. However, this figure differs between men and women.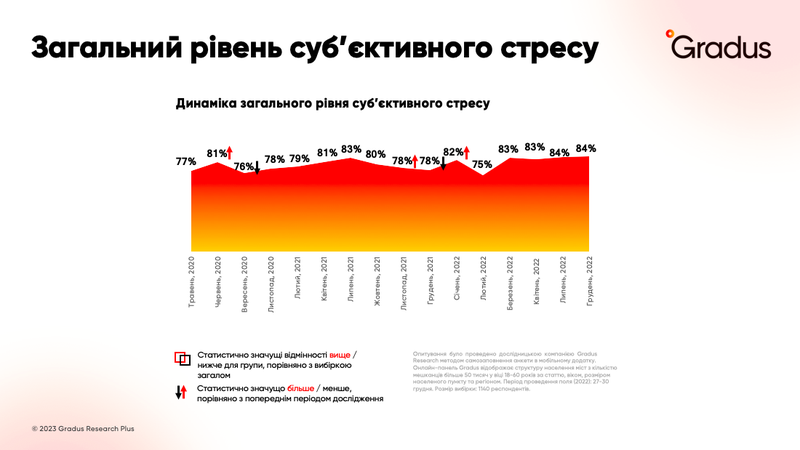 Belief in victory is at an all-time high
Confidence in Ukraine's victory has remained high since the first days of the full-scale war: 87% of respondents are currently absolutely or rather confident that Ukraine is able to repel an attack by the russian federation. Citizens believe that military assistance from Western countries and the strength of the Armed Forces of Ukraine are the main keys to Ukraine's victory.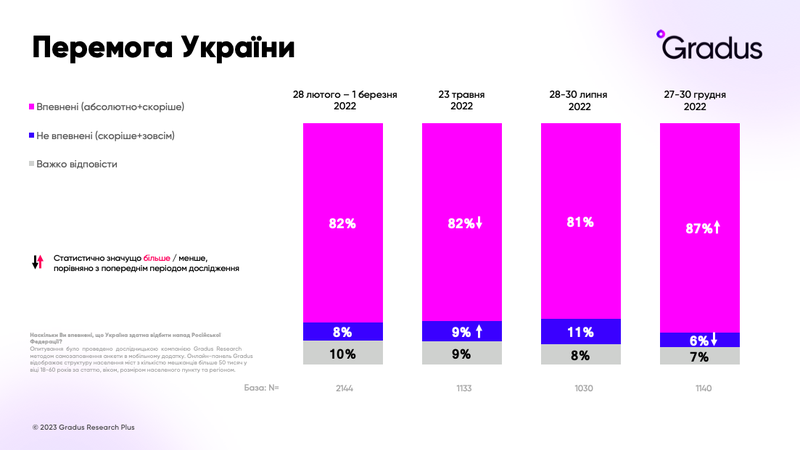 Financial status and employment are gradually recovering
More and more Ukrainians are returning to active work, and the proportion of those who have a job but are not working is decreasing.
At the same time, the vast majority of the population has seen their income decrease (78%).
Despite this, Ukrainians demonstrate consistently high involvement in helping the state, the army, and each other. Citizens are constantly donating: two-thirds of respondents (64%) say they do so regularly, donating money for military and humanitarian purposes. The average donation per month is 950 hryvnias.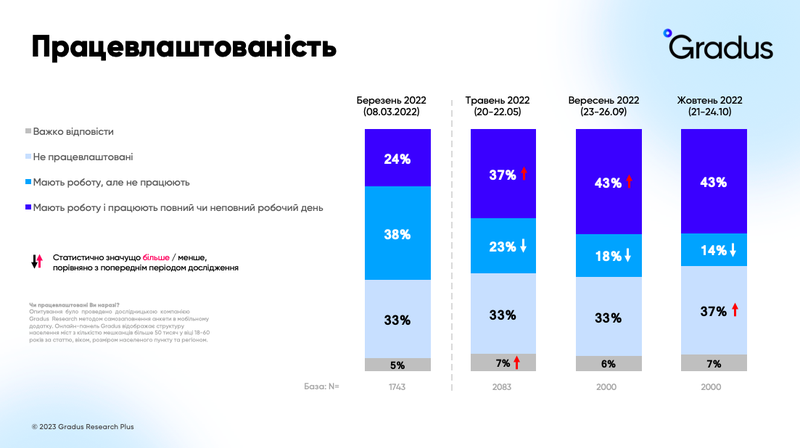 Changes in consumer behavior
Consumption continues to be rationalized, with the vast majority of respondents planning their purchases in advance (90%) and only 4% of respondents making impulse purchases more often. The results differ across age groups and also depend on whether the respondent is employed.
Ukrainians have become more demanding of brands. Almost half of the Ukrainian consumers (44%) choose brands based on their position on supporting the army, political position, language of communication or cooperation with the aggressor country.
We also see a strong rejection of everything russian. Since the first days of the war, many international companies have decided to leave the Russian market. Public pressure played a role in this. A Gradus Research study in May showed that 60% of the population refused to buy products from international brands that continue to operate in russia. And the "cancel culture" of such brands continues to gain momentum.
Growth of media consumption, even greater shift to digital, news addiction and the power of messengers
The war and the constant fear of danger to themselves or their loved ones have made Ukrainians news addicted - every second person watches the news several times a day. Messengers (Telegram, Viber, etc.), which are not advertising platforms, are number one on the media menu. 69% of Ukrainians consume news there. They overtake websites, television, and even social media (63% of respondents), pushing them to second place. They are followed by online information resources (46%). National TV channels, which used to be among the top 3 sources of information about social and political life, are in fourth place. They are watched by 34% of citizens to get up-to-date information.
"Throughout the year, we have been observing how Ukrainian society has been hardening in the fight against the external enemy. And these changes that happened to us in 2022 and affected every aspect of life - trust in people and government, involvement in helping others, the consciousness of choice and consumption, awareness that it is better at home - all of them remain with us in 2023 and move us to victory," comments Evheniya Bliznyuk, sociologist, CEO & Founder of Gradus Research.
The surveys were conducted by Gradus Research using a self-administered questionnaire in the Gradus mobile application. The Gradus online panel displays the population structure of cities with more than 50,000 residents aged 18-60 by gender, age, settlement size, and region. The exact periods and sample sizes of the surveys are indicated on the slides.
Other reports