After living abroad, Ukrainians assessed the lifestyle at home
May 2022
How Ukrainians rate different aspects of life in Ukraine and abroad
More than 6 million Ukrainians have been fleeing the war in other countries, so they can compare life abroad, mainly in Europe, and in Ukraine. Most respondents think that in Ukraine we have better retail work hours (54%), digitalization of financial and other services, both commercial and public (37%), and price-quality ratio in beauty (44%). These are the results of a Gradus Research survey of people fleeing full-scale aggression abroad. Respondents also said that they like Ukrainian "mentality, way of life" in their home country (36%) and "people and their relationships" at home (32%).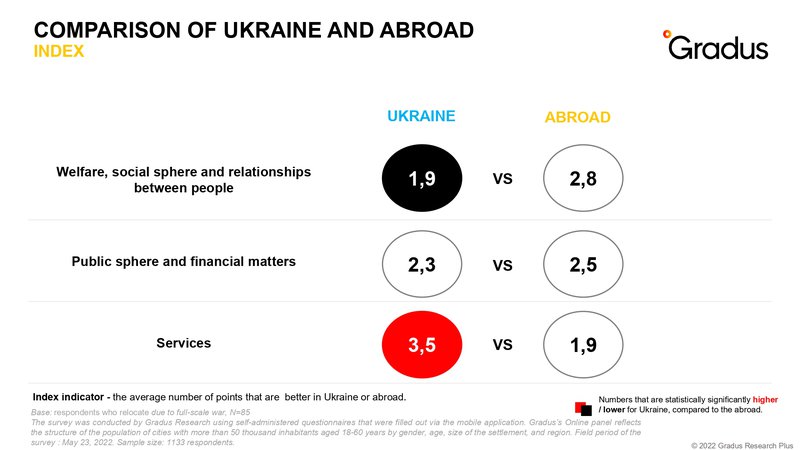 What Ukrainians liked abroad are urban development (42%), public transport (48%), inclusivity (50%), quality of tap water (38%) and waste sorting (46%). In general, Ukrainians are delighted with the social sphere of their new homes.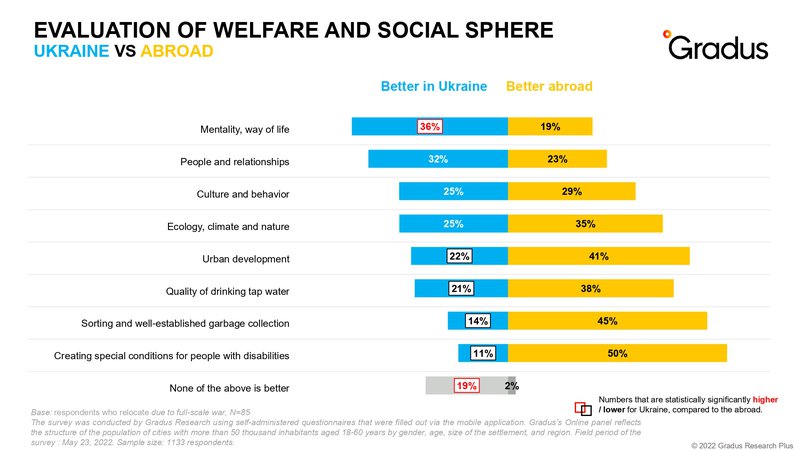 "For decades, Ukrainian society experienced so called 'inferiority complex'. Russia also contributed to this, but the most significant reason was an isolation of most Ukrainians from everyday life abroad. A small number of people went to study and work in other countries, and the majority of our peers never left their homeland. So, we have formed a myth that it's a good life somewhere far away, because 'normal' people live there, and our people are 'not normal'. Last year's Gradus poll showed that every second Ukrainian would like to emigrate. This created a psychological background preventing social development. Faced with everyday reality of their dreamed 'abroad', Ukrainians looked at their life at home in a new way, felt its benefits. I hope this will be another ingredient in the recipe for the country's leap forward," Eugenia Blyzniuk, CEO of Gradus Research, commented.
In view of Ukrainians domestic political sphere still loses in comparison with foreign countries. Thus, Ukrainians like law and public order abroad (46%), payments to employees (42%), state social protection (36%) and lower levels of corruption (37%).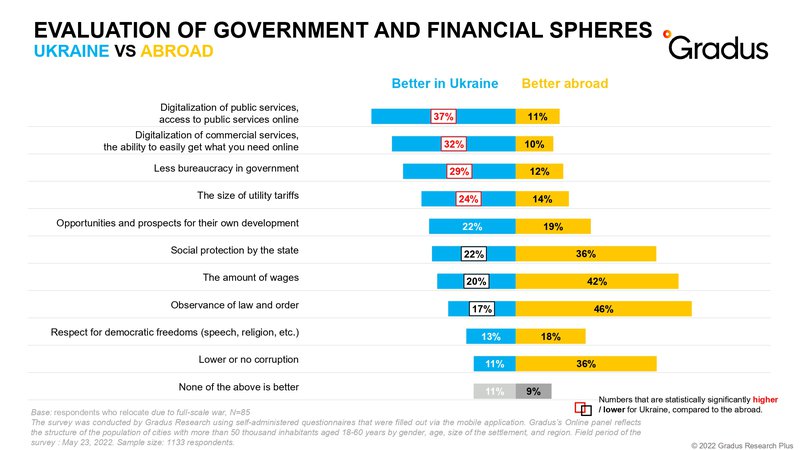 Other interesting facts from the "Ukraine vs Abroad" rating. Respondents prefer in Ukraine the prospects of their personal development, the quality of Internet (31%) and delivery services (29%), and also utility tariffs (24%). Abroad they like people behavior, environment, food quality, education and medicine, but for the last three areas the advantage compared to Ukraine is not significant, 5-8%.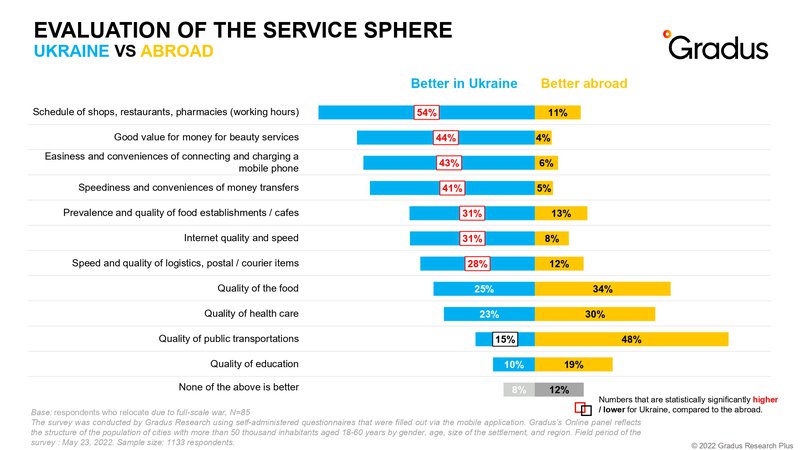 The full survey report is available on a commercial basis upon request at ai@gradus.app.
The survey was conducted by Gradus Research. Method is a self-administered questionnaire in the mobile application. Gradus online panel represents the population structure of cities with more than 50K inhabitants aged 18-60 by gender, age, size of settlement and region of residence. Poll period — May 23, 2022. Sample size — 1133 respondents.
Other reports