What Ukrainians buy during the war
April 2022
How has the war changed the consumption habits of Ukrainians?
The war has fundamentally changed the lives of Ukrainians, including their consumer habits. They are changing due to shrinking financial opportunities, forced relocation, and retailers' distribution practices. Gradus Research has identified the most popular products and studied the attitude to switching between brands in these conditions.
Top 7 categories of purchase during the war
food (58%, hereinafter the percentage of respondents who indicated that they plan to buy goods in this category)
medicines (33%)
clothing and footwear (31%)
hygiene and care products (29%)
household chemicals (17%)
goods for pets (17%)
goods for children (14%).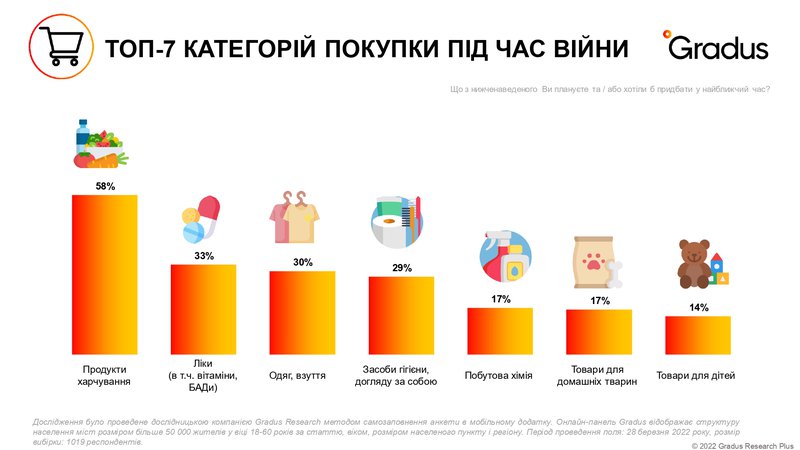 The inability to plan and the loss of income have led to the fact that the most of purchases made by the citizens are food.
The wave of migration to a safe place also affected the consumption spectrum. Most people left their homes in a hurry, with a minimum of belongings, and without plans for a long stay. Ukrainians who were forced to leave their homes as a result of the hostilities need clothes/shoes, medicines, and hygiene products. More than a third of the displaced plan to buy clothes/shoes, and they are not always able to find what they need in a new place. Thus, online sales are becoming increasingly important.
Ukrainians have always paid due attention to comfortable living. Having escaped the danger of being physically destroyed, people demonstrate consumer sentiment that gives the green light to business.
All of these categories are essentials, and the switching between brands is interesting.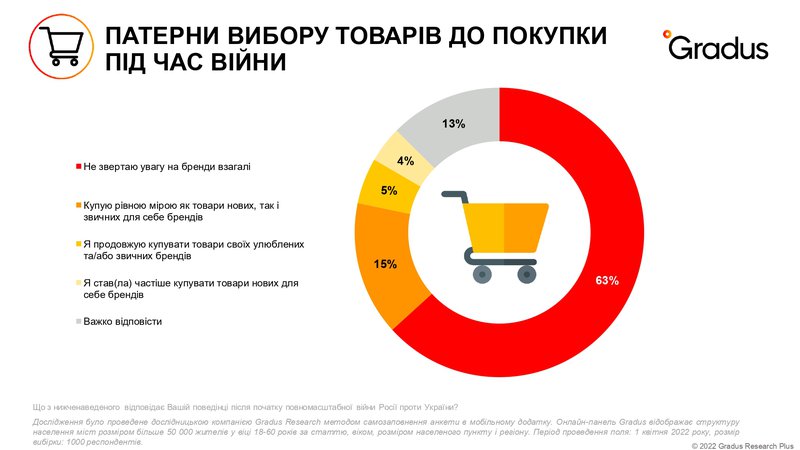 63% of respondents said that in the new environment, they do not pay attention to the brand, but choose from what is available, this figure is lower among the younger generation. The second place among the reasons for both switching to new brands and consciously buying familiar brands is the desire to support Ukrainian producers. And only then comes the switch to cheaper brands.
"A brand is about attachment and love. In his canonical work Motivation and Personality, Abraham Maslow argued that only when the need for security is satisfied, the need for attachment is actualized. Some consumers are eagerly looking for a sense of security, being attacked daily by airborne alarms and news, and do not pay attention to brands. Others, who have moved to new, safer places, are faced with the absence of their usual brands in offline stores and choose from what is available. Some have given up on premium brands and are saving money. And some are acting contrary to the strict hierarchy of needs and switching to Ukrainian brands to support society. This gives the green light to online trading," comments Evgeniya Bliznyuk, CEO and Founder of Gradus Research.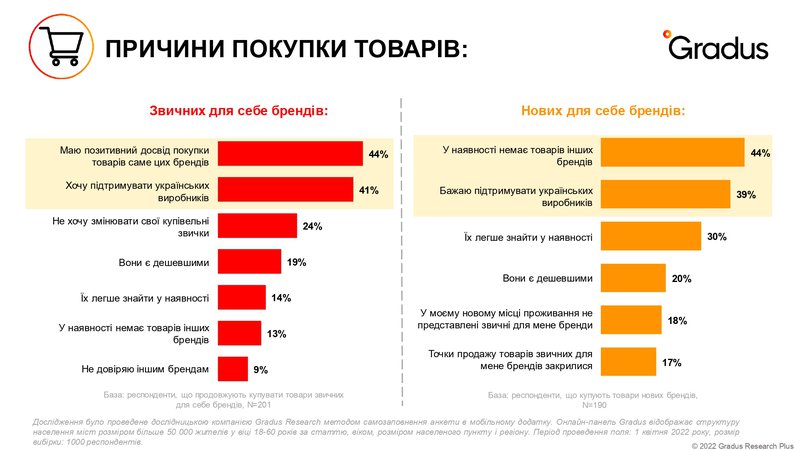 Medicines are most often purchased in the Southern region, with 43% of respondents reporting this, while in the Western region - 26%. Due to the logistical difficulties that the Southern region is currently experiencing, the increased consumption of medicines is most likely due to hoarding, while in the West, where there are fewer problems with supplies, consumption is normal. Traditionally, women are the main managers of family money. The categories in which the right to choose goods remains more with women are everyday goods: food, care, household goods, medicines, children's goods, etc. Men also traditionally continue to realize their expertise in the category of building materials.
Ukrainian culture has an extremely important economic potential, and it should be used to meet the needs and support the economy.
Two waves of the survey were conducted on March 28 and April 1, 2022. Responses were given by 1019 smartphone owners aged 18-60 living in cities with a population of 50 thousand+. The method was self-administered questionnaire in a mobile application. Respondents answered about their intentions to buy goods from 16 most common categories in the near future. The Gradus online panel represents the population structure of cities with more than 50 thousand residents aged 18-60 by gender, age, settlement size, and region.
Other reports