What Ukrainians buy and do online during the war
September 2023
How people use the Internet and what segments they can be grouped into
Numerous surveys have shown that the war has greatly affected the consumer behavior of Ukrainian citizens. This impact was especially noticeable last year, at the beginning of the full-scale war, while now we can already talk about certain established updated models that people practice in their daily lives in interaction with the Internet.
Before the war broke out in 2021, Gradus Research conducted a large survey called Digi-nation, in which researchers looked at how people use the Internet and what segments they can be grouped into. And in September 2023, Gradus Research repeated this study on a sample of about 1900 respondents to look at these indicators in dynamics.
What is the current situation with Internet use in Ukraine?
93% of the surveyed citizens use the Internet at home, 52% at work, and 42% in public transportation. That is, the Internet accompanies us everywhere. And the war has further stimulated the active use of the Internet, which is observed in all age groups. One of the reasons is that people receive critical security information from the web. Older age groups have also adapted to the Internet and feel quite confident there.
More than 72% of respondents spend more than 4 hours a day online. Of course, this duration of Internet use is shorter among older people and longer among younger age groups. However, in general, this is a high figure that has increased since the Covid. COVID was a kind of preparatory stage for life during the war, because without these skills, networking and remote work would have been much more difficult.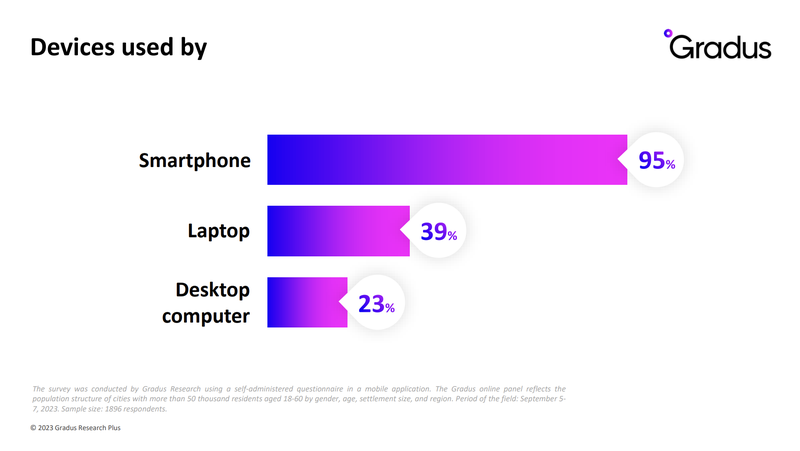 What devices do people use to access the Internet? We can see that smartphones are far ahead of all other gadgets - 95% of respondents use this device. Whereas a desktop computer is fading into the background - it is used by 23% of respondents, and these are mostly people aged 45-54.
How important do people see the Internet?
For 91% of Ukrainians surveyed, the Internet is a social norm, as everyone around them uses the Internet. 77% of respondents said that without the Internet, they would lose contact with many friends and acquaintances. That is, it is a powerful source of communication, and for 64%, work is impossible without access to the Internet.
At the same time, only 23% of respondents trust information from the Internet, and these are mostly people aged 35-60. While 68% pay attention to the source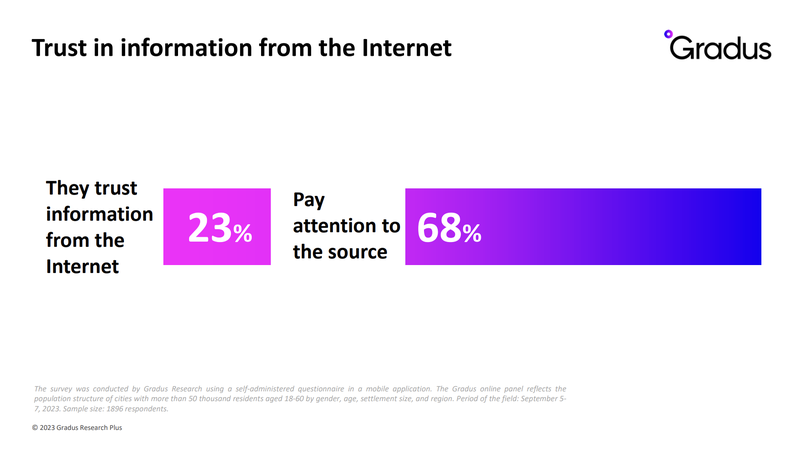 Key segments of the Ukrainian digital audience
In pre-war 2021, the Ukrainian audience of Internet users was divided into six main segments, each of which had a specific behavioral characteristic. How did the war change them? The group of moderate Internet users has slightly decreased, the group of uninvolved users has slightly increased, and the group of pragmatists has significantly decreased. And this is the cluster that united professionals, and this is where we see the greatest impact of migration from Ukraine, because this group has physically decreased. At the same time, the share of Gossipers and Entertainment Seekers has increased.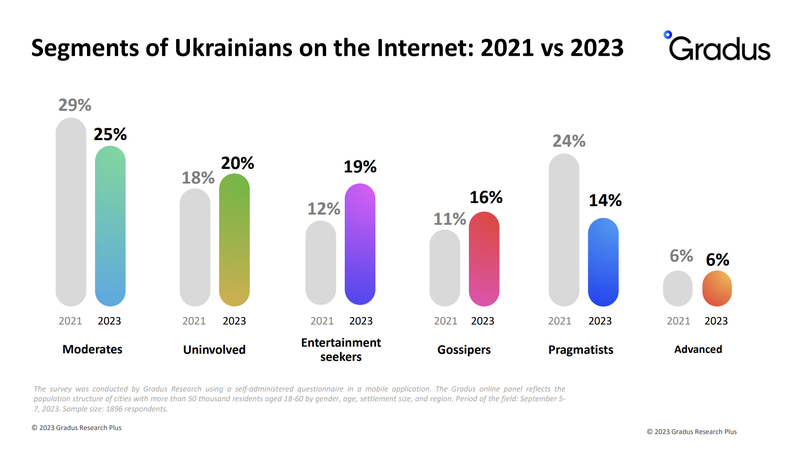 In terms of intensity of use and segment size, the most active Internet users are currently Advanced and Gossipers. Pragmatists and Entertainment seekers are the moderate users of the Internet. And the segment of moderate Internet use is represented by Moderates and Uninvolved.
How do online purchases unfold?
87% believe that buying goods or services online is easy. And ease is the main driver of this category.
26% of respondents prefer to shop online, 29% prefer to shop offline. Everyone else does not need to be so rigid in their preferences and uses both resources.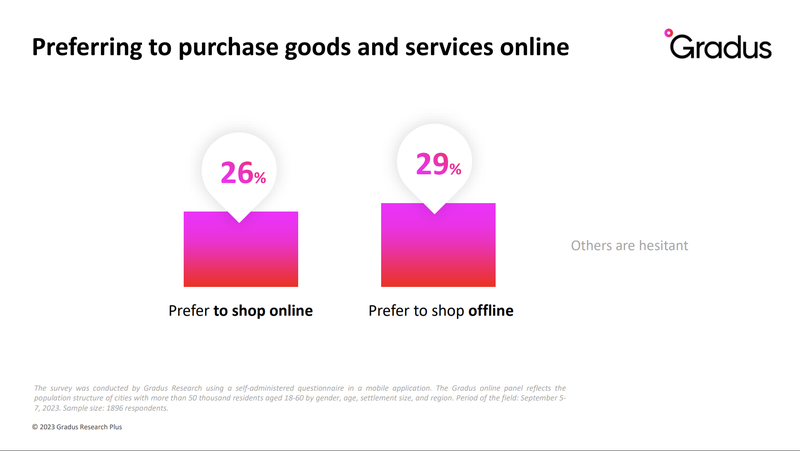 "We remember how much the COVID crisis period has advanced the online shopping category and stimulated it. And now we see that the war has stimulated it even more. The research results show a significant growth of the online shopping category, and this is already a well-established position of a quarter of the economically active population of Ukraine," comments Yevheniia Blyzniuk, sociologist, founder and director of Gradus Research.
The full research report contains a detailed description of each segment of the digital user audience with changes from 2023 to 2021:
Socio-demographic profile
Places of Internet use
Devices for accessing the Internet
Time spent on the Internet
Importance of the Internet in life
Trust in information from the Internet
Difficulties in using the Internet
Peculiarities of online behavior (openness on the Internet vs. real life)
Purpose of using the Internet - search, content creation, gaming, entertainment, work, study, communication (social networks and messengers), consumption, shopping, finance
Frequency of using messengers and social networks
Frequency of different types of online entertainment (video, music, games, other content)
Frequency of communication methods on the Internet (mail, calls, video meetings)
Frequency of online activities (reading blogs, commenting, reposting, creating own content)
Frequency of searching for medical/pharmaceutical information on the Internet
Frequency of searching for educational information on the Internet
Interaction with the political component (search for information, participation in campaigning, etc.)
Online shopping - difficulty/ease, frequency of certain financial actions
The full report is available on a commercial basis upon request to ai@gradus.app.
The survey was conducted by Gradus Research using a self-administered questionnaire in a mobile application. The Gradus online panel reflects the population structure of cities with more than 50 thousand inhabitants aged 18-60 by gender, age, settlement size, and region. Field period: September 5-7, 2023, sample size - 1896 respondents.
Other reports