Wartime survey of Ukrainian society / third wave
April 2022
Views of Ukrainians toward Russia continue to views get worse
Already 90% of Ukrainians feel that their attitude towards Russia has got worse — the third wave of national Gradus Research poll during the war shows. At the beginning of the invasion 81% of the respondents said about worsening feelings for Russia.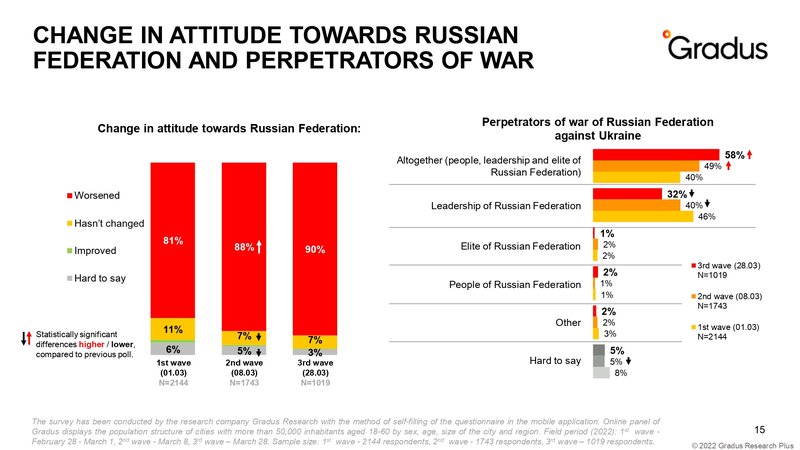 The increase in this number was due to uncertain people who said 'it's hard to answer' at the beginning of the war — their number fell twice, from 6% to 3%. Also, the number of respondents whose feelings for the northern neighbor did not change fell from 11% to 7% as well as the number of those who welcomed the invasion (decrease from 1.5% to 0.2%).
The greatest dynamics of worsening is in the eastern region of Ukraine. During the month of fighting, the number of respondents with worsening views towards Russia has grown by 20% and reached 83%. The northern region of Ukraine follows next: during a month of war negative feelings increased by 14% and reached 95%.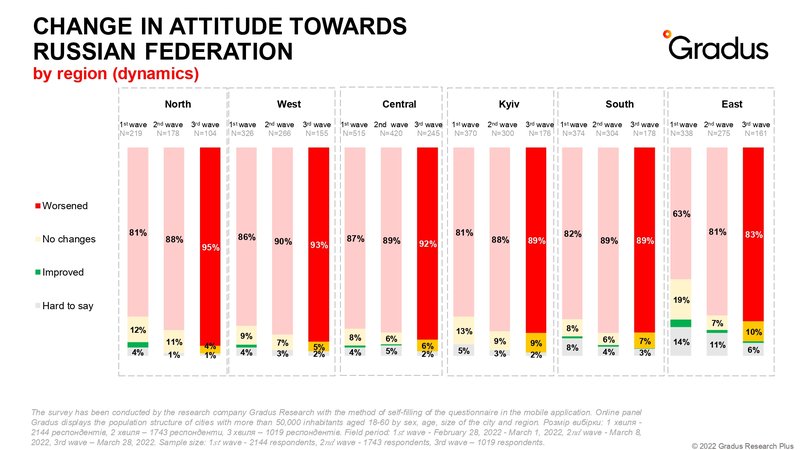 "Partly it's a result of communication between Ukrainians and their friends and relatives in Russia, 'cause the share of blaming aggression only on the Russian leadership is falling sharply, and the idea that the war is a collective responsibility of Russian leaders, elites and people increased by 18% during a month," — Eugenia Blyzniuk, founder and director of Gradus Research, comments.
More people fled and more displaced people said they would like to return home. If at the beginning of the war 35% wanted to emigrate, now it's only 8%. This correlates with the belief that the country will become stronger after the war — the conviction is growing, as well as confidence in Ukraine's ability to repel Russia's aggression; 90% of respondents now believe in it.
Ukrainians have less fear and tension, and more irritation and frustration now, also offense appeared, but wrath still prevails (and grows).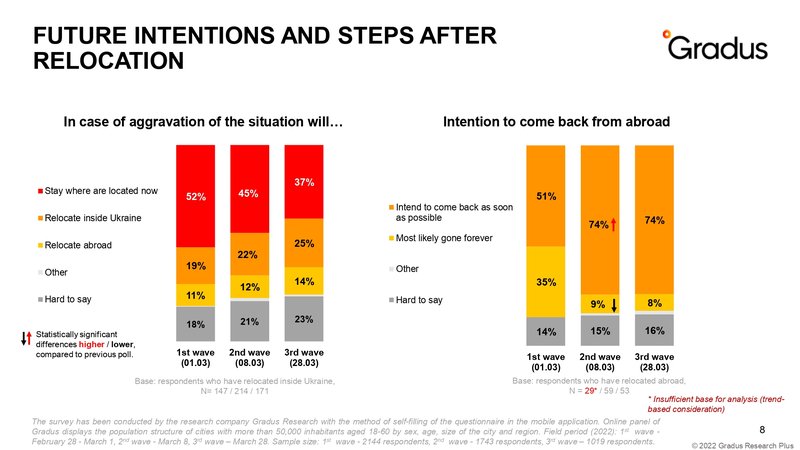 The full report of the study of socio-political attitudes of Ukrainians during the war is available upon request in the form on this page.
Gradus Research conducted the first wave of survey for the project 'Degree of Society during the War' on February 28 — March 1, the second — on March 8, and the third — on March 28, 2022. In the third wave, 1,019 citizens of Ukraine aged 18-60 living in 50,000 + cities filled a self-administrated questionnaire in a special mobile application.
Other reports